"If you had asked me if I believed in meeting 'the one' and just knowing, or soul mates, or even if love really did exist, I would have said no…until I met you. Now I believe those lovey-dovey movies are based on true stories, but ours is my favorite." – Samantha
Andrew and Samantha were wed at the Santa Barbara Courthouse on Sunday, November 8th, 2015. But this story doesn't start there. Andrew & Samantha met at a bike race clear across the country on July 2nd, 2013. Samantha was racing her way to the US Paralympics Team (and made it!). And according to Andrew that was the day his life began. Something told Andrew that it wasn't going to be the last time they saw each other…and he was right!
On the Saturday before the wedding, Joshua & Emily from Evermoore Films arrived in Santa Barbara to follow Andrew & Samantha around town and go for a fun ride. We toured the Santa Barbara Botanic Garden and then stopped at Handlebar Coffee Roasters for a quick cup – the perfect coffee shop for these two love birds – ending up near Santa Barbara Stearns Wharf for a sunset bike ride.
Samantha was one excited bride about having her wedding filmed. As she blogged months before, "I love how a wedding video can make me feel like I've known the bride and groom when they were strangers to me before the video played…After [we booked Evermoore Films] I couldn't stop smiling. I knew, from my hurting cheeks after our conversation, Andrew and I had made the right decision to work with them. It makes us both that much more excited about our wedding, which I personally didn't think was possible."
The next morning we met Samantha bright and early as she was getting her hair done by her Aunt Wendy and practicing her father-daughter dance one last time. Margaret Joan Florals had delivered a special hair piece for Samantha that made her look like a perfect wedding princess in her Maggie Sottero gown! Then we hopped over to Andrew's room at Pacific Crest Inn By the Sea where we made a special delivery from Samantha for his birthday. Andrew, smart move, now don't ever forget your anniversary! The couple made sure we knew that not only were the bride and groom wearing Vans shoes, but also the entire bridal party and the fathers too!
Before we knew it we had arrived at the Santa Barbara Courthouse with Grace Kathryn Photography and were waiting for the final cue from Selena Marie Weddings & Events to begin the ceremony. Eileen read some words about, to, and from the couple and they proclaimed their vows to each other. Andrew read his vows, grinning ear to ear, and Samantha whipped out a scroll…making Andrew both worried his had been too short but also excited to hear all the things Samantha was going to promise him. But it was just for laughs and giggles; Samantha had some beautiful words to say and, yes, even got a little teary-eyed herself.
The guests were soon whisked away on a tour of Santa Barbara by way of trolley and arrived at their destination of Nectar Eatery & Lounge awaiting the newlyweds as they finished up family photos and a little "couple time" breather. Dancing, a Mexican themed dinner complete with colorful piñatas, toasts, and a homemade churro-flavored "fried" ice cream cake by the lovely bride made the reception an eventful evening for the intimate party of family and friends.
"As much as I love photography, I am beginning to love — if not already love — videography even more. Whatever the reasons, I love the ability to see the body language, feel the emotions, to hear what is spoken, and to feel like I'm apart of the story just by watching it. I love that words so easily forgotten as time moves forward can be reheard through video, that they can spark joy." 
Well this wedding is one that won't be forgotten and yes, Andrew & Samantha, you can watch it and re-watch it as many times as you like!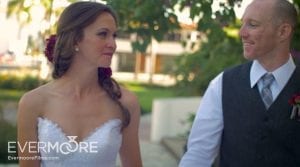 CREDITS
Groom: Andrew Bosco
Bride: Samantha (Heinrich) Bosco
Location: Santa Barbara, CA
Bride Preps Venue: Private Residence
Groom Preps Venue: Pacific Crest Inn By the Sea, Santa Barbara
Ceremony Venue: Santa Barbara Courthouse
Reception Venue: Nectar Eatery & Lounge
Coffee Shop Venue: Handlebar Coffee Roasters
Photography: Grace Kathryn Photography
Coordinator: Selena Marie Weddings & Events
Hair Stylist: Wendy
Dress: Maggie Sottero
Shoes: Vans
Florist: Margaret Joan Florals
Catering: Nectar Eatery & Lounge
Cake: Samantha Bosco
Transportation: Santa Barbara Trolley
Officiant: Eileen
Cinema: Evermoore Films
Music License: "Earthquake" by Hannah Renee from SongFreedom.com
Cinema Crew: Joshua & Emily Moore