(For best viewing, watch full screen!)

Elliot and Danessa had a beautiful autumn wedding at the Bakersfield Museum of Art. We were so happy to have been able to capture the special moments of their wedding day, and now we are happy to present their wedding highlight film! This bride and groom cried tears of joy as they relived their first day together as Mr. and Mrs. This was a beautiful outdoor ceremony and reception with family and friends wishing them many happy years together. We hope you enjoy their video as much as they did!
Here is what they said when they first saw their video:
"We are in love with our video!!! We watched it together for the first time and made both of us cry (and Elliot RARELY cries). Every time I watch it, there is something new. How you two fit in so much meaningful detail in three minutes is amazing. My only answer to this is the Moore's really love their job and do it with compassion. We are beyond excited to share this with family and friends! Thank you!!!"

– Danessa and Elliot Thorbrogger
CREDITS
CAST
Starring Actor: Elliot
Starring Actress: Danessa 
CREW
Producer: Evermoore Films
Cinematographer: Joshua Moore
Coordinator: Melinda Westfahl
Photographer: Austin Thomas Photo
DJ: Aaron's DJ Services 
Officiant: Michael Westfahl
WARDROBE DEPARTMENT
Hair Stylist: Alivia Daniels from Revive Salon
Makeup Artist: Alivia Daniels from Revive Salon
Dress Brand: Tadashi Shoji
Tuxedos: The Black Tux
Ring Shop: Heidi Gibson Designs 

ART DEPARTMENT
Florist: White Oaks Florist 
Rentals: Best Party Rentals
Lighting: Kevin Rush Entertainment
CRAFT SERVICES
Catering: Los Mejores Tacos Catering
Bakery: Gimme Some Sugar Cakes

SET LOCATIONS
Wedding Venue: Bakersfield Museum of Art
Location: Bakersfield, California 
Here are a few stills from the video above: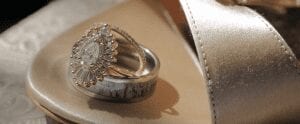 Evermoore Films is a video production company based in Bakersfield, California, providing cinematic wedding films and corporate promo videos to Kern County and beyond.