(For best viewing, watch full screen!)
Red Socks is a story of love, family, culture, and traditions. The day started off with both guys and girls busily preparing at Bakersfield Country Club. Justin and his groomsmen dressed smartly in their suits from Mr. Tuxedo complete with bow tie. While Kehaulani and her bridesmaids were busy getting their hair curled by Gia Bohannon and makeup done by Erica Cruz. The bridesmaids were comfortably clad in matching robes until it was time to slip into their shining black dresses. The bride also wore a coordinating robe eagerly awaiting when her mother would help her into her Hayley Paige bridal gown from Blush Bridal Couture, along with an elegant pearl bracelet.
Before the ceremony, the couple exchanged gifts (but not in each other's company) and Kehaulani took the time for a quick first look with her father, but Justin had to wait! His waiting was soon over however, as family and friends joined him at Saint George Greek Orthodox church, eagerly awaiting for the bride to arrive. Then there she was! Walking around the corner on her father's arm…but wait! They are stopping! Kehaulani's dad couldn't miss this opportunity for a once in a life time selfie with his little girl. Even through the laughter this happy couple's eyes were fixed on one another, and now it was time for Justin to kiss new wife, not once, but three times!
Family gathered with the newlyweds at Bakersfield Country Club for the reception. While guests enjoyed cocktails the bridal party was busy with Ashley DePencier Photography. This wedding reception was loads of fun and each guest received their own bundt cake from Nothing Bundt Cakes. Instead of cake, the bride and groom shared ice cream scooped into Dodger and Red Socks baseball helmets. Then there was dancing and laughter and more gifts presented to the couple. The day ended just as it had begun, with lots of smiles and laughter as Justin and Kehaulani made their grand exit underneath a glowing archway of sparklers.
CREDITS
CAST
Starring Actor: Justin
Starring Actress: Kehaulani
CREW
Producer: Evermoore Films
Cinematographers: Joshua Moore & Ricardo Santoyo
Photographer: Ashley DePencier Photography
DJ: Freestyle Event Serves Inc.
Officiants: Father Jim Pappas & Father Joseph Chaffee
Chanter: Tommy
WARDROBE DEPARTMENT
Hair Stylist: Gia Bohannon
Makeup Artist: Erica Cruz
Dress Brand: Hayley Paige
Dress Shop: Blush Bridal Couture in Orange County
Tuxedos: Mr. Tuxedo
Ring Shop: Roger's Jewelry Co.
ART DEPARTMENT
Florist: House of Flowers
Rentals: Walker-Lewis Rents
Lighting: Freestyle Event Services 
Linens: Bakersfield Country Club
CRAFT SERVICES
Catering: Bakersfield Country Club
Bakery: Nothing Bundt Cakes
SET LOCATIONS
Ceremony Venue: St. George Greek Orthodox Church
Reception Venue: Bakersfield Country Club 
Location: Bakersfield, California
Here are a few stills from the video above: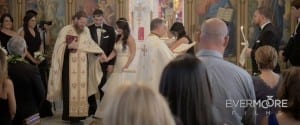 Evermoore Films is a video production company based in Bakersfield, California, providing corporate promo videos and cinematic wedding films to Kern County and beyond.