(For best viewing results watch full screen!)
There comes day in a father's life when he must give his little girl away into the care and love of the man of her dreams.  That day seemed to come at the speed of light for Steve Holloway, and it seemed just yesterday that his little "Bri Bri" was a little bundle, and as he said, "a ray of sunshine to his soul."
Kevin and Brianne were married at Bakersfield Country Club on a beautiful day in January. The bridesmaids, dressed in shimmery black gowns waited eagerly at the bottom of the stairs to see the bride descend in her dress. Brianne's elegant veil cascaded behind her as she approached her bridesmaids who couldn't contain their excitement. Meanwhile Kevin and his groomsmen were all dressed and awaiting the arrival of the girls for to take pictures with photographer Natalie Green of NYFotography.
Kevin and Brianne were married outdoors in a gorgeous candle-lit evening ceremony with family and friends gathered around where they exchanged their vows.
The newlyweds, along with friends and family enjoyed a delectable dinner provide by Bakersfield Country Club and top notch entertainment by DJ Mike from Freestyle Event Services. Surrounded by glittering gold and rose petals, the happy couple cut into their four tiered white and gold cake. Brianne had a surprise LA Dodgers groom cake made for Kevin. They listened to heart-felt toasts and danced the night away. So in love and so happy in each others arms.
It seemed like only yesterday that they met, fell in love, and as they say, "the rest is history."  Now at this moment, at this very moment, they are one.
CREDITS
CAST
Starring Actor: Kevin
Starring Actress: Brianne
CREW
Producer: Evermoore Films
Cinematographers: Joshua Moore and Ricardo Santoyo
Coordinator: Brenna Charatsaris
Photographer: NYFotography
DJ: Freestyle Event Services Inc.
Officiant: Pat Sheenan
Photo Booth: Viral Booth Company
ART DEPARTMENT
Florist: Flower Bar
Rentals: Walker-Lewis Rents
Lighting: Freestyle Event Services Inc.
Linens: Walker-Lewis Rents
Stationary: Socially Yours
CRAFT SERVICES
Catering: Bakersfield Country Club
Bakery: Sweet Creations Custom Cakes
SET LOCATIONS
Ceremony and Reception Venue: Bakersfield Country Club
Location: Bakersfield, California
SOUNDTRACK
"From This Day On" By Tim Halperin Courtesy of MusicBed
"Resolve" By Bob Fleming Courtesy of Soundstripe
Here are a few stills from the video above: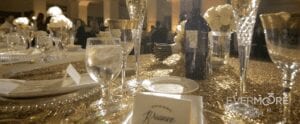 Evermoore Films is a video production company based in Bakersfield, California, providing corporate promo videos and cinematic wedding films to Kern County and beyond.