(For best viewing results watch in full screen!)
How many little girls have grown up dreaming that just like a Disney princess they would find their prince charming and live happily ever after? Well, as we grow up we learn that indeed, life is no fairy tale. But it is possible to find true love, and little girls do grow up to be princesses and find their prince charming. The tale of Miguel and Leah is one such story…
Once upon a time, in a land not so very far away, while visiting a friend (who just happened to be Leah's uncle) the last thing Miguel expected to find was the love of his life. But just like all great stories, the unexpected often happens, and an ordinary day becomes extraordinary!
As every little girl knows, the BEST part of the fairy tale is when the prince and his princess are wed, and they begin their happily ever after.
Starting at the Padre hotel, the couple dressed and prepared for the ceremony. They still weren't allowed to see each other, Leah wanted it to be a surprise! Miguel added his new watch to his handsome suit and bow tie while the time ticked away for what seemed like an eternity! Leah's mother helped her dress in her gorgeous lace bridal gown from Alfred Angelo complete with an elegant trailing veil and of course, a glittering tiara!
This couple, barely even friends at first, were now becoming husband and wife in front of the alter at St. Philip the Apostle Catholic Church. After the ceremony, family gathered around this new couple for photos while Allison Claire Photography was busy making sure no moment was missed.
Now it was time for the ballroom scene – the new Mr. and Mrs. shared their first dance as husband and wife at the Rio Bravo Country Club in Bakersfield. DJ Noe Garcia provided the soundtrack for this enchanted evening while the Bride and Groom cut into their cake made by Sweet Surrender, after enjoying a delicious meal by Bord A Petite Catering. The evening ended with dancing, smiles, and laughter as any good fairy tale should.
Leah grew up with visions of princesses dancing around a shimmering ballroom each with their prince. No longer a little girl, Leah still loves Disney princesses and just like Belle, the beauty has found her beast. Her "beast" Miguel, won her respect and just as a good prince should, he will always love and take care of his princess.
And they lived happily ever after…
CREDITS
CAST
Starring Actor: Miguel
Starring Actress: Leah
CREW
Producer: Evermoore Films
Cinematographers: Joshua Moore & Ricardo Santoyo
Planner: Attention to Detail by Tracy Buys
Venue Coordinator: Karen
Church Coordinator: Maria Chavez
Photographer: Allison Claire Photography
DJ: Noe Garcia
Officiant: Father Sal Gonzalez
Live Music: Rosie Ayala
WARDROBE DEPARTMENT
Hair & Makeup Artist: Kathleen Alvarez from Via Bella Salon and Spa
Dress Brand: Alfred Angelo
Alterations: Alfred Angelo
Tuxedos: Men's Wearhouse 
Ring Shop: Lauren B. Fine Jewelry and Diamonds
Mother of the Bride Dress: Adrianna Papell Nordstrom
Flower Girl Dresses: David's Bridal
Bridal Robe and Slippers: Nordstrom
Robes: Victoria's Secret 
Bridal Shoes: Betsy Johnson
Perfume: Chance by Chanel
Cologne: Bleu by Chanel
Hangers: Etsy 
GIFTS
Bride's Gift from Groom: Cross Necklace from Tiffany and Co.
Groom's Gift from Bride: Citizen Watch
Bride's Gift from Mom: Blue Ring
ART DEPARTMENT
Florist: Terry McCormick
Design & Decor & Rentals & Linens: Zach from Walker-Lewis Rents
Lighting: Noe Garcia
Stationary: Marline Ryan
Stamps: Disney
Calligraphy and Menus: All in the Invite by Maria Lewis
Guestbook: Etsy
Bibles & Rosary Presented at Ceremony: All Saints Catholic Store
Flower-Girl Baskets and Ring Pillows: Etsy
CRAFT SERVICES
Catering: Bord A Petite Catering
Bakery: Sweet Surrender
Bartender: Bord A Petite Catering
TRANSPORTATION
The Limousine scene
SECURITY
Empire Security
SET LOCATIONS
Ceremony Venue: St. Philip the Apostle Catholic Church
Reception Venue: Rio Bravo Country Club
Location: Bakersfield California
Soundtrack:
"Man on Wire" by Steven Gutheinz Courtesy of Musicbed
"Haven" by Jordan Critz Courtesy of Musicbed
Here are a few stills from the video above: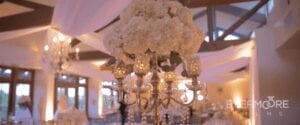 Evermoore Films is a video production company based in Bakersfield, California, providing corporate promotional videos and cinematic wedding films to Kern County and beyond.