(For best viewing watch full screen)
Steven and Angelica's love story started twelve years ago but more than a decade later their love still runs strong. The bride and groom officially became Mr. and Mrs. early in March at an intimate Summerland beach wedding in Santa Barbara, then just a few weeks later celebrated at the Gardens at Mill Creek in Bakersfield. This was a wedding in two acts you might say.
Act One: Setting, Summerland Beach, Santa Barbara California.
On the morning of the ceremony Angelica the bride, was helped into her lace, sleeveless wedding dress and sandals (perfect for walking on the sand) by her sister at the Holiday Inn in Santa Barbara. A few rooms away, Steven, the groom dressed in his white linen suit and jacket. The groomsmen wore white and tan, while the bridesmaids and flower girls wore soft pink dresses that flowed in the ocean breeze.
Angelica's brother walked her up the isle of soft sand to where Steven stood eagerly waiting. A simple, yet elegant archway framed the couple as they said their custom vows to one another. Salt air, roses, and perfume scented the air as the sun lit up the waves that glistened like diamonds, reminding us of the tokens of love and promise that would soon be placed on their fingers.  The scene ends with Steven and Angelica as husband and wife strolling along the beach for photos by Magdalena Cruz Photography, capturing the kisses and smiles as the sun sank slowly into the sea behind them closing the curtain on the first act.
Act Two: Setting, The Gardens at Mill Creek, Bakersfield California.
Slipping back into their wedding attire (this time Angelica wore gold sneakers in preparation for an evening of partying) Mr. and Mrs. Phillips prepared to step onto the stage for their wedding reception, where family and many friends gathered to celebrate!
The newlyweds fed each other cupcakes and danced their first dance as husband and wife. Family and friends gave their love, told sweet stories, and wished the bride and groom well in their wedding toasts. With a bridal gown from JJ's House, Suit by Capital clothing from Capilla LA, wedding ring by Laura Sarah Designs, and accessories by Charming Charlie the stars of this story were elegantly costumed.
No production is complete without music! DJ EDDIT ran the soundtrack, from the first dance, to the mother son dance, to the bouquet and garter tosses well into the night as everyone gathered on the dance floor.
As as the curtain closed; love, laughter, family, and friends surrounded the couple and another love story came to a happy ending. Congratulations, Mr. and Mrs. Phillips!
CREDITS
CAST
Starring Actor: Steven Jr.
Starring Actress: Angelica
CREW
Wedding Filmmaker: Evermoore Films
Santa Barbara Cinematography: Alex Puente, Ricardo Santoyo
Bakersfield Cinematography: Joshua Moore, Ricardo Santoyo
Coordinator: Viviana Magallanes
Photographer: Magdalena Cruz Photography
DJ: DJ EDITT
Officiant: Tracey Cherrie
Photo Booth: Viral Booth
WARDROBE DEPARTMENT
Hair Stylist: Juanita Estrada
Makeup Artist: Genevieve Munoz
Dress Brand: JJ's House
Dress Shop: JJ's House
Tuxedo Brand: Capital Clothing
Tuxedo Shop: Capilla LA
Alterations: Sew Elegant 
Ring Shop: Laurie Sarah Designs
Accessories: Charming Charlie
ART DEPARTMENT
Ceremony Florist: Romantic Santa Barbara Weddings
Reception Florist: Los Angeles Flower Market
Rentals: Angela's Party Rentals
Lighting: Freestyle Event Services Inc.
Linens: Angela's Party Rentals
Invitations: Wedding Paper Divas
CRAFT SERVICES
Catering: Tacos by Lydia
Bakery: Rosario Reyes
Bartender: Rick Cota
SET LOCATIONS
Ceremony Venue: Summerland Beach
Location: Santa Barbara, California
Reception Location: The Gardens At Mill Creek 
Location: Bakersfield, California
SOUNDTRACK
"Love While You Can" by Glenn Campagna Courtesy of Soundstripe
"Further Up" Joel Slabach Courtesy of Soundstripe
Here are a few stills from the video above: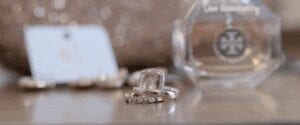 ---
Evermoore Films is a video production company based in Bakersfield, California, providing corporate promo videos and cinematic wedding films to Kern County and beyond.