If you don't believe in fairytales, this wedding story just might change your mind! On April 30th, 2013, Ashley wrote to Steven that she was pretty sure they were meant to be…together…for a lifetime. On August 1st, 2015, Steven bent down on one knee and asked Ashley the question of her dreams. Then on June 18th, 2016, those dreams came true as they said "I Do" and today? Why…they're living in their happily-ever-after! As Ashley said, "You have no idea how unbelievably happy I am my prediction came true!"
The wedding day had arrived and now it was time to relax. The guests had been invited, the helpers had been hired, and all the details were picked out for tis once-in-a-lifetime event: the wedding of Steven and Ashley! Alivia, Jana, and Gia kept the girls in line with curling irons and makeup brushes – so many ladies and much to do! It wasn't long before Amanda from House of Flowers arrived and dropped off the most romantic bouquets of blooming flowers that perfectly coordinated with the antique Italian country theme. Meanwhile Mariel was busy upstairs shooting the perfect Lazaro dress from JLM Couture – vintage with a hint of Disney princesses. The groomsmen and ring bearers were arriving on the other side of town to prep their wedding jackets and shiny shoes. After all, someone had to remind Steven of the countdown hours until he was to be a married man!
As the clock struck two, the groomsmen and bridesmaids slowly entered the church to the wafting sounds of the church piano. Father Bert from Our Lady of Perpetual Help Catholic Church conducted the ceremony, and Steven's sister sung an angelic version of Ave Maria from the loft above. Family and friends from all over congregated together after the ceremony to exchange hugs and jokes and talk about how gorgeous the bride looked and how proud the groom looked – not a sad tear was to be seen.
Doug Davis, a special family friend, provided relaxing cocktail music for the guests while the bridal party roamed the grounds of Bakersfield Country Club taking pictures to remember for a lifetime. The dashing young men were dressed to the prime in their AJ's tuxedos, but that didn't stop them from having a good time (note especially the scene in the credits!). A quick reception reveal and exchange of surprise wedding gifts followed, after which the bride and groom were whisked away until their Grand Entrance. Vanessa and her team had checked every detail of the gorgeous banquet room and nothing was left unfinished or unattended. A stunning dinner catered by the Bakersfield Country Club was soon served and the official celebrating had begun.
Mai from De Coeur Bake Shop had personally delivered several stunning wedding cakes and personalized macaroons, again lending to the subtle Disney theme in the most elegant way. DJ Mike from Freestyle had the newly remodeled banquet hall looking classy with colored uplighting and provided a fun selection of music the whole night long. The Misty Dameron Photo Booth on the balcony outside kept the guests busy and having a blast until the party was over. A first dance between the groom and his bride, a father-daughter dance, a mother-son dance, a bouquet toss, a garter toss – so many fun wedding formalities and traditions to  So many people and so many vendors had come together to make this wedding not just possible but a night to remember. Or as some say, "So this is love."
CREDITS
CAST
Starring Actor: Steven
Starring Actress: Ashley
CREW
Producer: Evermoore Films
Cinematography: Joshua & Emily Moore
Coordinator: Vanessa Noel Events
Photography: Mariel Hannah Photography
DJ: Freestyle Event Services Inc

Officiant: Father Bert
Live Music: Doug Davis
Photo Booth: Misty Dameron Photo Booth
WARDROBE DEPARTMENT
Hair Stylist: Gia Bohannen
Makeup Artist: Alivia Daniels & Jana Maes
Dress Brand: Lazaro
Dress Shop: JLM Couture Flagship Salon
Tuxedos: AJ's Tuxedo
Ring Shop: Wickersham Company

ART DEPARTMENT
Florist: House of Flowers
Rentals: Walker-Lewis Rents
Lighting: Freestyle Event Services Inc
Linens: La Tavola Fine Linens
Stationery: Prim & Pixie
Invitations: Matinae Design Studio
CRAFT SERVICES
Catering: Bakersfield Country Club
Cake: De Coeur Bake Shop
SET LOCATIONS
Ceremony Venue: Our Lady of Perpetual Help Catholic Church
Reception Venue: Bakersfield Country Club
Location: Bakersfield, California
SOUNDTRACK
"Kentucky" by Kyle Buchanan courtesy of Soundstripe
"Hold On" by Austin Manuel courtesy of Soundstripe
"Edgar Evins" by TituS courtesy of Soundstripe
Missed their Sneak Peek? View it here!
Here are a few stills from the video above: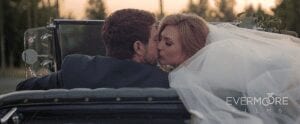 Evermoore Films is a video production company based in Bakersfield, California, providing cinematic wedding films and corporate promo videos to Kern County and beyond.