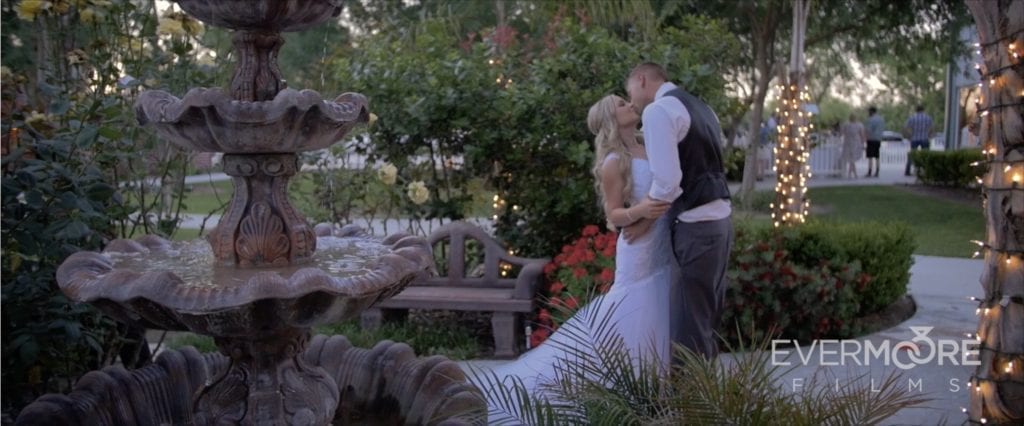 May 20, 2017 couldn't come soon enough for Nathan and Chelsey, but when it did, it arrived bright and early. Everything about the day promised life and joy, and this happy couple couldn't wait to say "I do" and enter into new life together. 
Here came the bride, welcomed to Park Place by an early sunshine brilliance. And not only did Chelsey step out of a comfy ride by The Limousine Scene, but of course she had her beloved poodles Nala and Desiree with her! Getting ready for her big day at the cute little cottage, Chelsey slipped into a gorgeous Enchanted Bridal Boutique gown. The harmony of the lace, the sparkles, the buttons, and the tulle base showed off such exquisite details. And don't forget those fun, silver heels! Hair stylist Cathelene Chavez and makeup artist Elizabeth Vigstrom gave Chelsey a soft, sweet, yet glowing look that, let's face it, had Nathan mesmerized.
And what was the groom doing to prep for his big day? Fishing with his best guys! Such a fun way to start the day, let out some of the nerves, and invite the beauty of nature into the magic of the wedding. Nathan went with a gray Men's Wearhouse vest, a pleasant complement to the pure white and pinks of the ladies, and the elegant rose bouquets from Flower Bar.
When it came time for the ceremony, I think everyone adored the flower girls—and the ring poodles! With baby's breath flower crowns and the poofiest tutus, these cuties almost stole the show. That is, until the bride and her daddy entered the aisle. She so proudly held onto his arm, and he so bravely gave her away. Even Nathan couldn't help but wipe back tears as the woman he would soon call his wife made her way towards him. As the bride and groom gave vows of love, trust, and support, Darling Nikki Photography captured these precious moments—including that "real good kiss" Nathan gave Chelsey!
The country-themed reception went off with a bang with emotional toasts, a sweet daddy-daughter dance, a cute mother-son dance, and lots of laughter. Too Fat Sandwiches and Tastries Bakery provided delicious food and treats, and a simple, elegant cake set on a rustic barrel that made you just want to start dancing. And dance they did! With Kevin Rush Entertainment running the sound and lighting, how could you not join the dance floor for a good time!
May 20, 2017 was coming to a close. The sun had set, priceless moments had been captured for years to come, and sparklers were lit for a Grand Exit. But even though Nathan and Chelsey's wedding day was ending, their beautiful marriage was only just beginning. Nathan started his day fishing with his groomsmen and walked out that night with Chelsey—"The Perfect Catch."
CREDITS
CAST
Starring Actor: Nathan
Starring Actress: Chelsey
CREW
Film Producer: Evermoore Films 
Film Director: Joshua Moore
Cinematographers: Joshua Moore & Ricardo Santoyo
Film Editor: John Hamlin & Joshua Moore
Photographer: Darling Nikki Photography
DJ: Kevin Rush Entertainment
Officiant: Pastor Kenny Hoffman
Photo Booth: Tap Snap 1185
WARDROBE DEPARTMENT
Tailor: Men's Wearhouse
Dress Shop: Enchanted Bridal Boutique 
Seamstress: Bakersfield Tailoring and Bridal Alterations
Hair Stylist: Cathelene Chavez
Makeup Artist: Elizabeth Vigstrom
ART DEPARTMENT
Florist: Flower Bar
Lighting: Kevin Rush Entertainment 
CRAFT SERVICES
Catering: Too Fat Sandwiches
Bakery: Tastries Bakery
SET LOCATIONS
Venue: Park Place Special Events
Transportation: The Limousine Scene
Location: Shafter, California

SOUNDTRACK
"City on Fire" by Tyler Batts courtesy of MusicBed
"All Night Long" by Umphy courtesy of MusicBed
---
Evermoore Films is a video production company based in Bakersfield, California, providing corporate promotional videos and cinematic wedding films to Kern County and beyond.