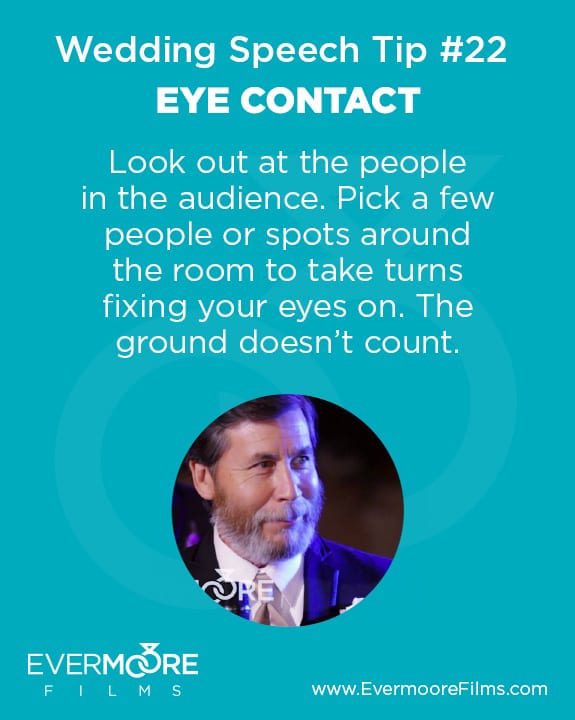 The art of public speaking involves many facets. Here are the ideas we've covered so far. Click on the links to review!
Eat the Mic
Plant Your Feet
Smile, You're On Camera!
Slow and Clear
Speak Up
Speak Out
Take a Breath
And today, we'll take a brief look at Eye Contact. These are the types of tips to read in detail now and review briefly before you walk on stage. Eye contact is important to maintain during a speech in front of people. Just imagine a speaker standing up and talking to anyone – or anything – but their listeners…they might stare at the wall, the door, the ceiling, the floor, their feet, their fidgeting hands. Now imagine a person who is giving a speech from their heart on something they're passionate about. They will look you in the eye, they will look every person in the eye, they will look with eyes open, full of meaning, intently, emotionally, and lovingly. This is what we saw in Angela's father: a love for his daughter that no other relationship can take away. It's the kind of love that Mitchell now has for their brand new baby girl born just days ago!
Mitchell & Angela have a new love for one another that is different than any other relationship on earth, and similarly, Angela and her father have a love for each other different than any other relationship as well. How could he NOT look at her and her husband with love and emotion, looking intently at the past, the present, and the future. He was a wonderful example of eye contact with both the crowd and the couple from which we can learn a thing or two. And if you really want to cry, watch the theme of Angela's father's eyes throughout their wedding highlight film – from when he sees her for the first time, to giving her away, to toasting to their happiness, culminating at their special father-daughter dance. Such a special treat! We dare you not to cry 😉