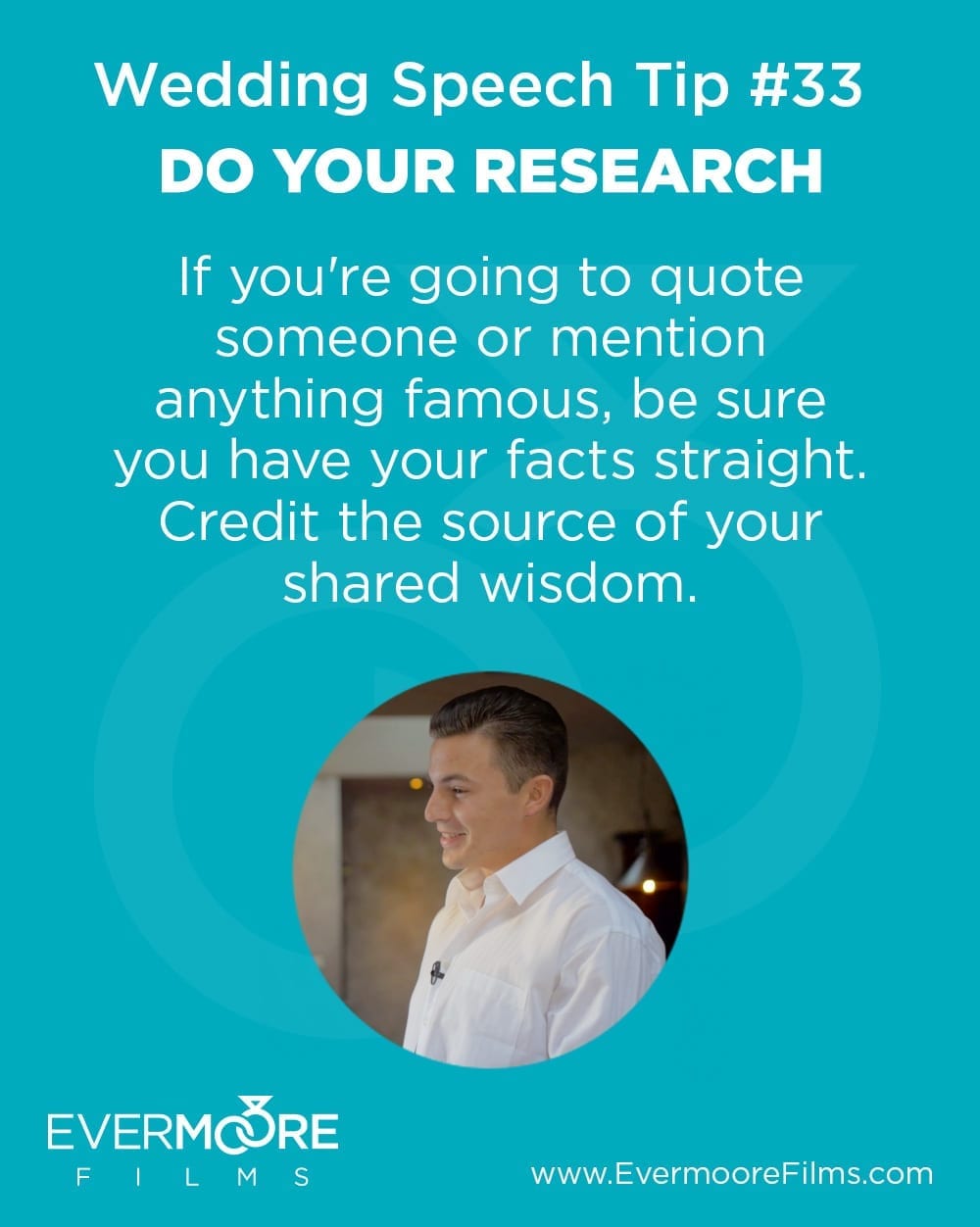 As you're continuing to fill the content of your speech and are figuring out what to say, after having had some time to Be Original and think of ideas on your own, you've now come across a few good Famous Quotes. But unless it's a super famous quote — no, especially because it is a famous quote, you'll need to make sure you properly credit the source or person of this great wisdom you share.
The last thing you want to do is stand up and recite the wrong quote from the wrong President or the wrong verse to the wrong song. A step beyond that is making sure you understand the context of the phrase or quote. Be sure you look at who you're quoting – a poet, a saint, or a plumber? And be sure to understand what the context was of their quote – why did they say it? Was it said in sarcasm and they actually meant the opposite!? Or was it said in fear and they weren't sure if they believed it themselves? Or was it said in jest and meant to be taken lightly? What emotion will it provoke from the audience? Will it make them laugh? Will it make them cry? Will it make them think? Will it make them sigh?
Andrew & Samantha enjoyed having several friends and family stand up and encourage them on their wedding day. Having captured it on film, they'll be able to go back and remember who said what – the funny stories, the serious moments, the laughs and the smiles!
CREDITS
Starring: Andrew & Samantha
Location: Santa Barbara, CA
Bride Preps Venue: Private Residence
Groom Preps Venue: Pacific Crest Inn By the Sea, Santa Barbara
Ceremony Venue: Santa Barbara Courthouse
Reception Venue: Nectar Eatery & Lounge
Coffee Shop Venue: Handlebar Coffee Roasters
Photography: Grace Kathryn Photography
Wedding Planner: Selena Marie Weddings & Events
Hair Stylist: Wendy
Wedding Dress: Maggie Sottero
Wedding Shoes: Vans
Florist: Margaret Joan Florals
Caterer: Nectar Eatery & Lounge
Wedding Cake: Samantha Bosco (The Bride!)
Transportation: Santa Barbara Trolley
Officiant: Eileen
Wedding Cinema: Evermoore Films
Cinema Crew: Joshua & Emily Moore
Music License: "Earthquake" by Hannah Renee from SongFreedom.com