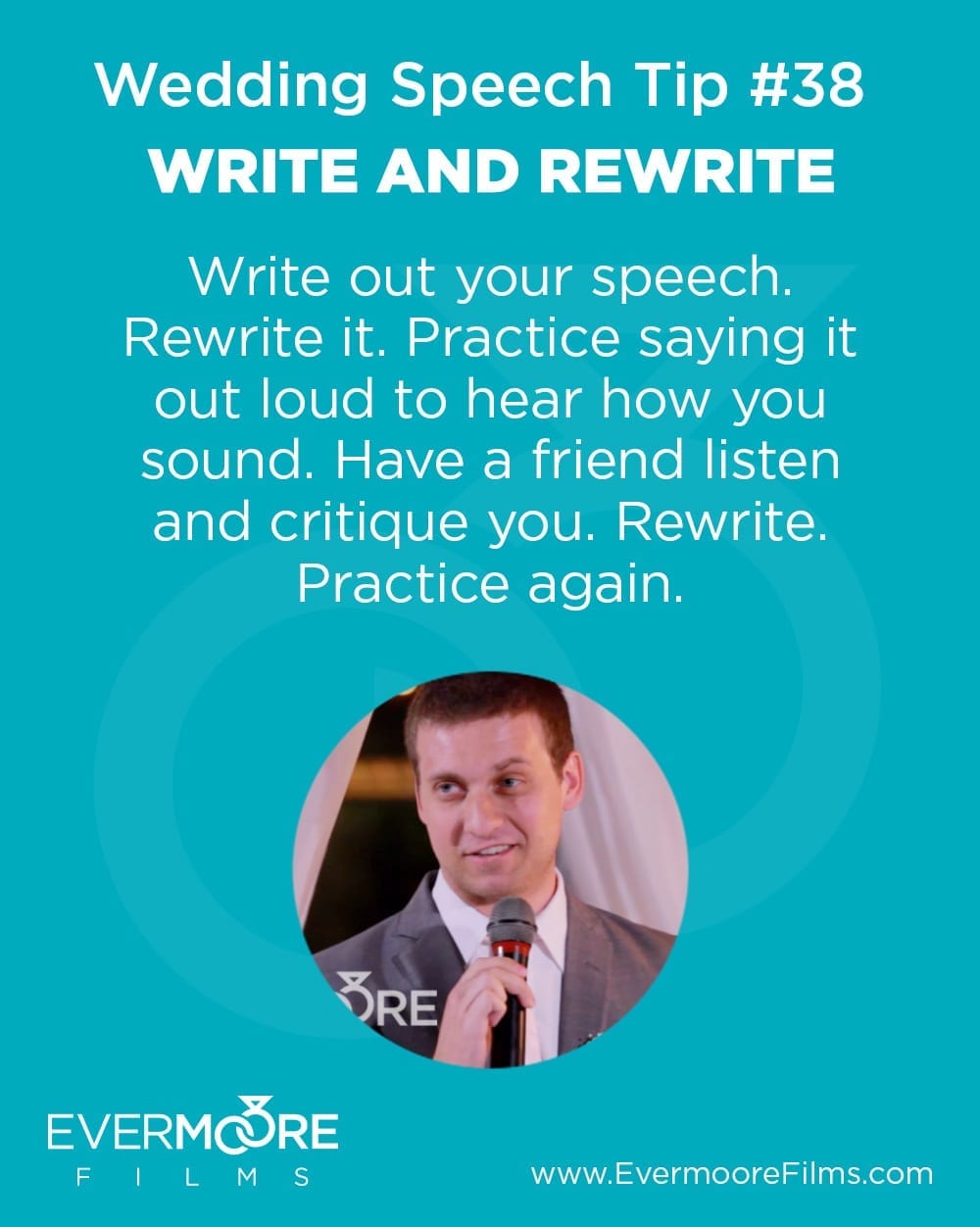 We're here to help. We want your wedding to go off without a hitch. And we want your wedding video to be the best it can be. So that's why we're ready and eager to help you plan and prepare for your wedding speeches. You'll need to prep your bridal party and let them know first, that your wedding is being recorded on video, two, that they better be ready to give a speech to the crowd in front of the video, and three, that you can provide them with a helpful resource to get them started: the Evermoore Wedding Speech Tips!
Part of preparing for a wedding toast is by thinking in advance about what you want to say and not forgetting it. How has humankind from the beginning of the world (well, almost) solved this mystery? By a little magical wand called a "pen" or "pencil" and some magical material, usually white, given the name "paper." That's right, folks, just write it down! Poets, arm-chair philosophers, theologians, scientists, politicians…all those smart people do it too, you know. They write down their thoughts, they prepare what they are about to say, and they say it well. No, they don't always have their paper in front of them while they talk, but that's only because they've thought through their words so carefully, understand their ideas so precisely, and are absolutely, positively, no-doubt-about-it prepared! Then they come off looking like a genius…because they are!
Kyle & Lea got married at Park Place Parties in Shafter, California and were thankful for their friends and family who stood by their side not only to witness the covenant of marriage they were making but also to wish them happiness, joy, and give them seasoned advice on how to approach marriage and their future life together.
CREDITS
CAST
Starring Actor: Kyle
Starring Actress: Lea
CREW
Cinematographer: Evermoore Films
Photography: Gina Escamilla
DJ: Good Time Entertainment
SET LOCATIONS
Ceremony & Reception Venue: Park Place 
Location: Bakersfield, California
Evermoore Films is a video production company based in Bakersfield, California, providing corporate promo videos and cinematic wedding films to Kern County and beyond.