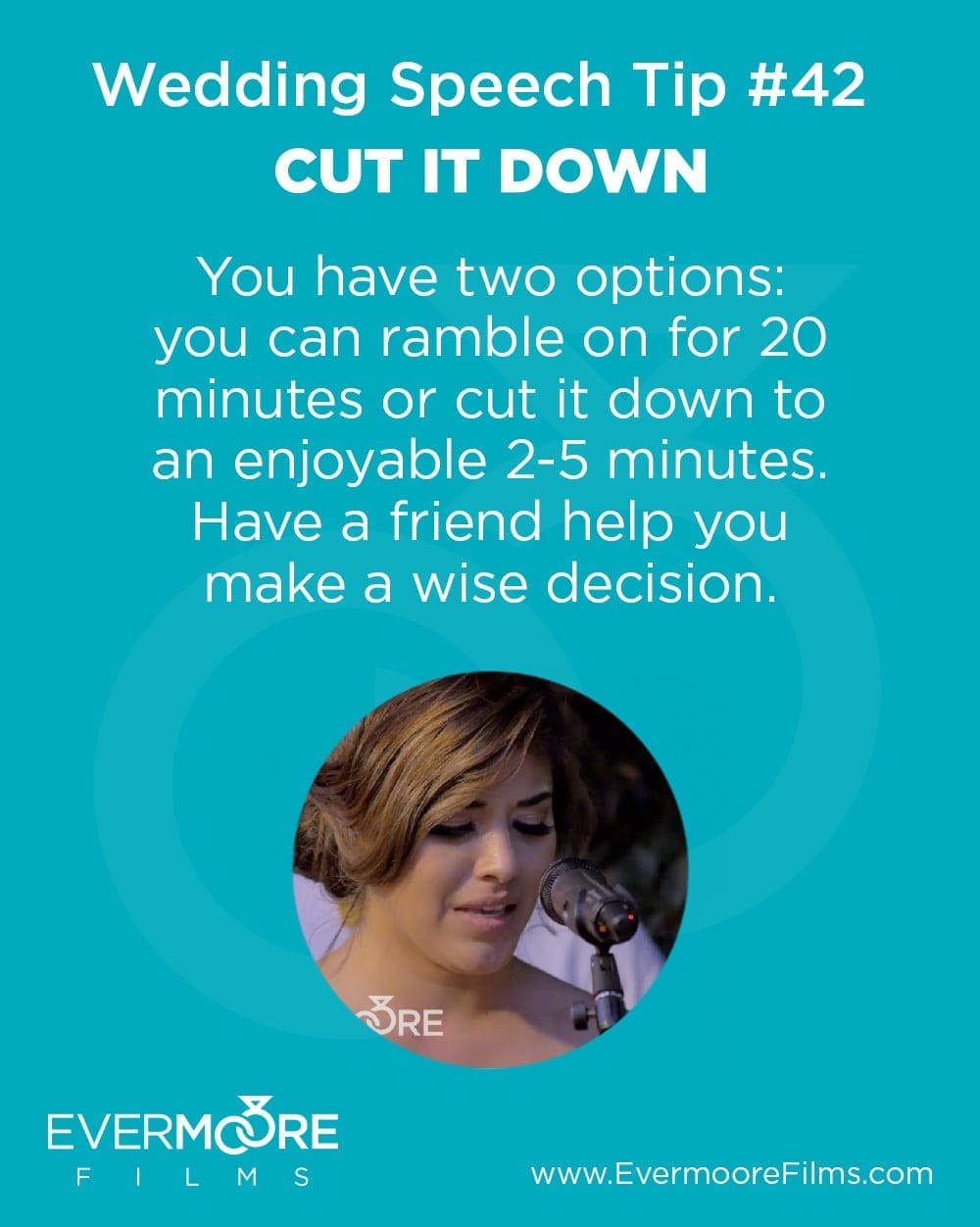 Now, we like to suggest that you time your speech and that you record yourself so that you know how long it's going, but this tip is slightly different. You'll need a friend. Ask them to listen to your speech, now that you've practiced on your own a bit. Ask for input from someone else (not the bride or groom!) so that as a different pair of eyes and ears, they can give you constructive criticism or helpful feedback. Instead of saying, "Oh, I shouldn't have said that…yikes did I really look like THAT?….Why did you let me keep rambling on and on!?" and regretting the past, plan for the future and ask for feedback BEFORE your big debut (haha…well, you get the idea).
If you fail to write it out then you might end up rambling on for 5, 10, 20 minutes. But if you fail to plan it out then you might accidentally end up with a 20 second speech instead! Use a lifeline, phone a friend, and ask for help! Ask a responsible, level-headed friend to give you helpful advice and give you the truth. "Ok, man, how did I REALLY do?" Remember your main goal: to give an enjoyable speech for the bride and groom and for the audience as well! Now have at it!
Check out Jean-Luc and Haley's wedding highlight film below. In the full feature film of 30-45 minutes, brides and grooms can re-watch the full toasts to remember what everyone said. In the highlight film, only a few clips get picked since we also want to include your love letters and ceremony vows.
CREDITS
CAST
Starring Actor: Jean-Luc
Starring Actress: Haley
CREW
Cinematographer: Evermoore Films
Photographer: Misty Dameron Photography
DJ: Peter Wonderly DJ and Bentley
Hair & Makeup: Via Bella Salon
SET LOCATIONS
Preps, Ceremony & Reception Venue: Noriega House
Location: Bakersfield, CA
Evermoore Films is a video production company based in Bakersfield, California, providing cinematic wedding films and corporate promo videos to Kern County and beyond.