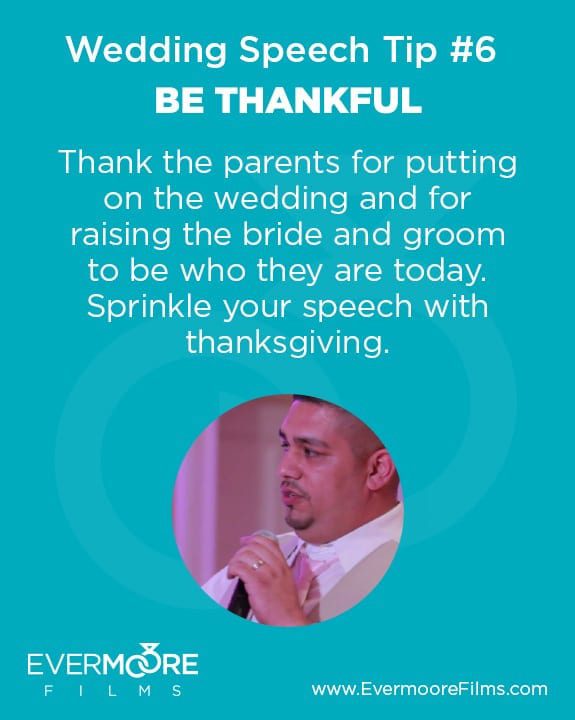 Everyone appreciates a thankful heart. And at a wedding there is so much to be thankful for. Not sure what to be thankful for in your speech? Name your blessings one by one.
Thank the parents of the bride and/or groom for putting on the wedding.
Thank the parents of both the bride and groom for raising them to be who they are today.
Thank the people who have helped with the wedding (vendors, family, friends, etc.).
Thank the father of the bride for the delicious meal he provided for everyone.
Thank the caterer for preparing the delicious food.
Thank the coordinator for planning all the details and handling all the emergencies of the day.
Thank the photographer for being patient with the family and crazy bridal party, etc.
Thank the venue coordinator for preparing the location so beautifully.
Thank the disc jockey and/or master of ceremonies for keeping the party going without missing a beat.
Thank the pastor/officiant, cake baker, limo driver, photo booth attendant, make-up artist, hair-dresser, event designer and anyone else you can think of that was left out!
Thank the guests for attending and traveling out to the venue (especially if a destination wedding).
Thank the bridesmaids who have helped and pampered the bride all day.
Thank the groomsmen for being extraordinary body-guards to the groom all day.
And the list could keep going! Just remember: You can't go wrong giving thanks. Oh, and thanks for reading our blog post!